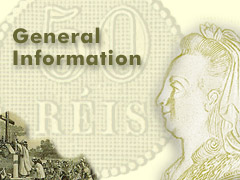 The Museum was created by the Central Bank with the primary objective of preserving the nation's heritage on the progress of means of payment, based on the principle that money is an important form of a people's cultural expression, and an essencial element in economic history. To this end, the Museum has brought together, organized, and preserved bank notes, coins and other documents and objects that, in some form or another, express monetary value.
The Museum mantains a system of permanent, temporary and travelling exhibits with the purpose of both showing and disseminating information on its collection. It also provides consultation services in the area of numismatics, and has an ongoing program of cooperation with schools.
Address
Museu de Valores do Banco Central
SBS Quadra 3 - Bloco B - 1. Subsolo
70074-900 - Brasí­lia DF


Schedule
Tuesday to Friday from 10:00 am to 6:00 pm


Contact
Museum-School Program
Integration with schools located in the Federal District and surrounding region.